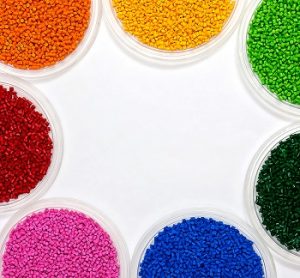 In our previous blog, Selecting the Appropriate Resin Grade for Your Application, thermoplastics are categorized into three different resin grades; commodity, engineering, and specialty/high-performance. These categories of resins have special properties that they are known for. However, during the plastic injection molding process, some of the thermoplastics properties can diminish. This is where additive applications, a complex blend of materials, can help to stabilize or enhance properties that were lost during processing. With the blend of additives, plastics can be made safer, cleaner, tougher, and more colorful.
Additive Applications
Essentially, the aim of creating plastic products through injection molding is to reorganize thermoplastic molecules into new shapes without ruining or diminishing the finished products qualities. When these characteristics do in fact change through the process, additives help to solve these problems. Without additives, most plastics would not work properly or at all.
A process called compounding helps to melt blending plastics with additives. This process changes the physical, thermal, electrical, or aesthetic characteristics of the plastics that need to be achieved. Afterwards, the pellets are thoroughly inspected and must pass many internal quality checks before its use in the injection molding process. There are thousands of additives on the market today. Below are some of the most common additive applications used in the injection molding process:
Colorants—Used to add color, special effects such as fluorescence, or adding patterns to products.
Antimicrobial—Used to control the build-up of bacteria, fungi, and algae on the surface of food-related applications or high-contact consumer products.
Antistatics—Used to decrease the static electricity conduction and are often used in sensitive electronics and industrial goods.
UV Stabilizers—Used for the protection of the resin's mechanical properties by absorbing selective UV rays (less degradation).
Plasticizers and fibers—Used to make resins softer, more flexible and pliable, whereas fibers add strength and stiffness.
Flame retardants—Used to make products resistant to combustion or eliminate its tendency to burn.
Optical brighteners—Used to improve whiteness.
Benefits of Additive Applications
Below is a list of the benefits that additives provide to thermoplastics:
Save on production costs—Additives make products last longer, improve performance, can be incorporated before or during molding to cut down processing time, and help to conserve raw material reserves.
Increased safety—Additives, mainly fibers and flame retardants, increase the safety of car crashes and parts in a house in case of a fire.
Enhanced appearance—Pigments can create all sorts of decorative effects that will never wear off. Other benefits include protecting, concealing, cutting down or absorbing light in the final plastic product
Cleaner products—PVC, a common plastic used in the medical sector, has low toxicity, flexibility, clarity, and sealing properties that make it advantageous for standard hygiene levels. Common additives include stabilizers, fibers, and plasticizers.
Increased longevity—Natural materials decay with age and are subjected to many conditions such as heat light, weather, wear and tear from continual use, and electric current. Additives work silently and provide the unseen protection from these types of conditions.
It's important to make informed decisions when it comes to the types of plastics you want to use in your injection-molded products. Here at Midstate Mold, we can help advise you on the right types of resin and additives to meet both the performance and safety goals of your products, from medical devices to electronics components. With our own tool making expertise and exhaustive quality assurance, we can help you get the right parts made of the right materials. Contact us today to learn more.