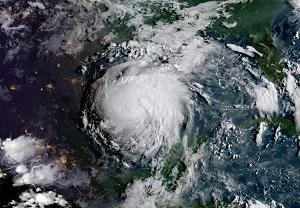 We all saw the destruction that hurricane Harvey left behind. What you may not have seen is how this hurricane completely devastated the plastic injection molding market. Southern Texas and the U.S. Gulf Coast, home to about 90% of the nation's chemical and plastics factories, is the building block for a wide range of consumer and industrial goods. This article will look at how exactly Hurricane Harvey damaged the plastics industry these past couple months.
The Havoc of Hurricane Harvey
Hurricane Harvey hit Texas on August 25th as a Category 4 storm. In over a decade, this was the first Category 4 storm to hit the United States. In Houston Texas, over 50 inches of rain was dumped in the area causing extreme flooding and significant damage to plastic processing facilities. Hurricane Harvey's impact shut down more than half of the ethylene and propylene production capacity in the United States. As you know, both of these chemicals are critical building blocks for many types of plastic parts and materials.
Southern Texas is the epicenter of the U.S. specialty chemicals and petrochemicals industry. It accounts for about 70% of U.S. production of ethylene and propylene, chemicals used to make plastics. North American polyethylene prices moved up an average of 4 cents per pound in September, with polypropylene prices increasing 7 cents per pound.
Markets Affected by Hurricane Harvey
Almost all plastic markets have been affected because of this hurricane. Many plastic manufacturers creating parts in the medical, aerospace, life science, etc. industry have been halted, or they have had to second source resins. Once the plastics in this market are in place for production, it can be a difficult and timely process to find a secondary material supplier that will adhere to strict regulations in these reputable markets.
When hurricane Harvey hit, the plastics industry didn't see shortages and price spikes right away because the factories were burning through their inventory of small plastic pellets. Typically, manufacturers don't keep huge stockpiles of plastic pellets in their shops. Luckily within every plastic injection molding project at Midstate, there is a secondary plastic chosen with similar properties to the first chosen plastic, in case problems arise.
Aftermath of Hurricane Harvey
Two months after Hurricane Harvey barreled through Texas, the plastics industry is still seeing effects on resin prices: specifically, an increase on PE, PS, PET, and PP. Plastics processing facilities located along the Gulf Coast were not spared from the destruction, and several plants are still working to bring their operations back to normal production levels.
Oil refineries and petrochemical plants are coming back online slowly because operators have to conduct inspections and restart the sophisticated equipment in phases to prevent damage. Many plastic corporations are still operating under force majeure (unavoidable circumstances), contributing to the expected hike.
From a business perspective, we feel that it's important for us at Midstate Mold to communicate the storm's effect on the plastics industry. Supply issues and price fluctuations could continue in the short term; However, due to foresight and diligence, we are confident to provide high-quality plastic injection parts and solutions for our clients, even in these trying times. Contact us today to learn more!