I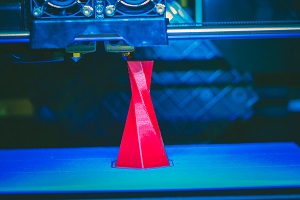 t appears 3D printing and injection molding are at odds with each other, but that couldn't be further from the truth. 3D printing and injection molding are not competing technologies so much as they are complimentary. They both primarily produce parts from plastics, capable of high degrees of geometric complexity, and are used for manufacturing and rapid prototype generation. There is a need for both types of this technology in manufacturing.
How are they Compatible?
The majority of plastic parts in the world are manufactured by injection molding. However, some companies have begun using 3D printing technology to produce injection molds. These companies have made it feasible to quickly create custom injection molds onsite in just hours. This is useful for prototypes from mold design to final test product, using the normal plastic injection molding process.
Most molds in this process are made from metal because it must withstand the high temperatures of molten plastic cooling. Photopolymers, which do not melt during the injection molding of some lower temperature thermoplastics, can be used for some simple injection molds.
What Are the Advantages of Each Process?
Plastic Injection Molding
Plastic injection molding is a manufacturing process where heated, liquefied plastic is forced into a mold cavity under pressure. Once the mold has been filled, the base material cools and re-solidifies. Then it is ejected from the mold for inspection and distribution. To see what the top 5 advantages of plastic injection molding are, check out our other blog Five Advantages of Plastic Injection Molding to give you a more detailed description.
3D Printing
3D printing works differently than injection molding. Instead of having a pre-formed mold to shape the part; the dimensions, shapes and other physical qualities are loaded into a 3D printing machine through computer-aided drafting (CAD) drawing or other files. Then, the machine builds the part from the ground up, working with thin strands of plastic substrate fed through the machine. It has already been adopted by many top name companies to replace current prototyping methods and aid in their manufacturing process. Here are some of the advantages of 3D printing:
Cheap Manufacturing – Lower shipping and packaging costs related to overseas parts suppliers, less human resource involved and sometimes more reliable raw materials.
Quick Production – More efficient with on-demand manufacturing needs.
Less Waste – Able to make a similar object using additive manufacturing uses less energy and reduces waste to a minimum.
Accessibility – It may not be long until we will all have our own multi-purpose device to create products when we need them.
New shapes and structures – The nozzle can build an infinite number of complex figures. This gives more durability and higher structural integrity.
What are the Differences of Each Process?
Plastic Injection Molding
Injection molding machines are found in dedicated shops that specialize to many customers. The machines have a high upfront cost of several hundred thousand dollars because a quality molding machine will provide years of usage and return on investment.
Injection molding is ideal in situations where customers have a demand for high-volume production because the investment in a mold pays itself back once inventory is sold. Also, on a per-part cycle basis, injection molding is obviously faster than 3D printing. However, creating a custom mold out of steel or aluminum and machine time makes overall turnaround time a bit longer.
3D Printing
3D printing machines have no upfront setup costs and usually price at a few thousand dollars. It is even within financial reach for many small businesses to invest in a printer if they do not wish to go to an external provider.
3D printing is a better option for low-volume needs such as prototyping and even businesses use this to keep overhead costs down. Additionally, 3D printing takes longer to make the actual product, depending on size and detail, but there is almost no lead time, unlike injection molding. Once you send your design to the supplier or your own printer, you can start making it as soon as possible.
Now that you have read the advantages and differences of each process, you can distinguish the number of benefits and qualities each offer. This will help you to come to a knowledgeable decision on what process is right for you. If you know that plastic injection molding is the way for you, contact us. Midstate Mold & Engineering's professional engineers and molders can help you out each step of the way from concept to prototype, to completed product.