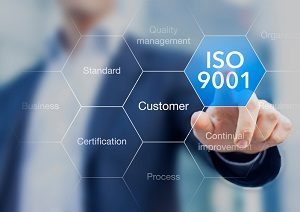 When you are looking for the correct manufacturer to partner with, it's important to make sure you are thorough in your due diligence. It's a good idea to start with what you need from your manufacturer. You should compile a list of requirements such as the ability to produce volume and levels of quality control. One aspect you should consider adding to your list of requirements is the ISO Certification. It adds credibility to a company by showing that their quality management systems meet a set standard of expectations.

What is ISO?
"ISO" stands for International Organization for Standardization. Yes, it's not exactly a perfect acronym, but you get the idea. ISO is an international body which sets standards designed to help organizations sufficiently meet the needs of stakeholders, whether those are customers, employees, business partners, or others while at the same time adhering to regulations pertinent to their product or service
ISO 9001 Certified?
To summarize, ISO is an organization which creates several different standards (often known as the family of standards) and ISO 9000 is the group of standards that focuses on quality management systems. ISO 9001 certification is the actual certification indicating that an effective quality management system is in place and maintained. Finally, there are different organizations (certified registrars) which provide certifications by auditing potential applicants. The NQA is one such accredited certification body. Important things to remember are:
• ISO sets certain standards for excellence.
• ISO 9001 is a quality management approach system.
• Certification means an independent body has found that the company meets the standards set forth by ISO.
• Routine audits are conducted by the registrar to assure ongoing compliance.
Is Everyone ISO 9001 Certified?
Many ask the question, isn't everyone certified? Not all manufacturers are certified. Many small companies still not certified and may not be anytime soon. It is costly to become ISO 9001 certified and takes a tremendous amount of commitment to remain certified.
When determining which manufacturer is right to partner with, finding one with an ISO 9001 certification can be an important indicator as to the quality you can count on.
At Midstate Molding & Engineering, we are proud to be ISO 9001 certified since 2011. We have since received a certification renewal (certificates must be reissued every three years). We recently passed our yearly audit with flying colors. If you have any questions about why we might be a good manufacturing partner for you, please contact us. Our team of skilled experts would love to help with any questions or concerns you might have.