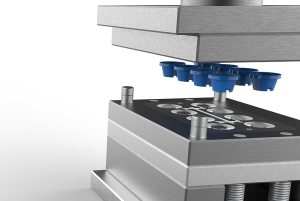 While for many engineers, planning and building their devices is the most exciting part of the process, it isn't the last. Making sure those devices are properly used and maintained is key to ensuring they function for as long as possible. So, after you've spent so much time and money on an injection mold, you need to exercise care over who uses that mold to manufacture parts. And care is the right word—injection mold care—as proper maintenance and storage will make sure your mold lasts longer and makes more parts, defect free.
Effects of Injection Mold Neglect
So, let's first talk about why mold care is such a big deal. A mold represents a large upfront cost—both in terms of design and manufacturing. This is offset by the low cost of making each individual plastic part. However, between hard use and poor storage, neglect can damage the mold and wear down on its lifespan, meaning fewer total parts products and more part defects. This can include:
Buildup of plastic resin on the mold, especially around vents.
Water and rust damage in improperly controlled environments.
Damage to the mold due to foreign objects present during clamping.
Acid damage due to chemicals from overheating molds.
Understanding Injection Mold Care & Maintenance
So, how do you extend the life of your mold? By making sure your mold is getting the care and maintenance it needs between uses. Molds don't run 24/7, and the downtime between uses is both a time for maintenance and proper storage. Proper mold care and maintenance can mitigate a lot of the above issues, making sure that both while running and at rest the mold is in the best condition, but storage is important too. Is your mold being stored on-site between uses? Is it in a temperature and humidity-controlled area?
Why Mold Makers Make the Best Part Manufacturers
Whether you're looking for a new manufacturer or talking to your current one about a neglected mold, the secret to finding the best injection mold care and maintenance for your tool is easy: work with someone who does both mold making and part manufacturing—or better yet: mold design, mold making, and part manufacturing! You need experts in the entire process to have the skills, tools, and procedures in place to keep molds in tip-top shape and running for cycles to come.
Midstate Mold & Engineering is just such a company. We pride ourselves on being able to provide all these services in house, including tool relocations and mold rehabilitation from overseas manufacturers who couldn't keep up with mold maintenance. As designers and manufacturers for some of the most demanding markets (including medical and life sciences), our commitment to quality and manufacturing standards are second to none, from parts production to mold care. If you'd like to know more, contact us today or reach out for a quote.