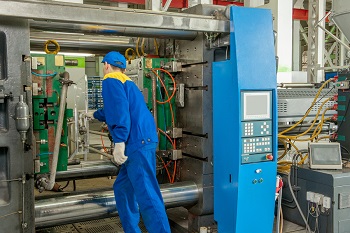 With over thousands of plastic injection molding and plastic manufacturing facilities in the U.S. to choose from, what are one of the top qualities that make a molding company stand out? When choosing a provider, many factors should be taken into consideration; including capabilities, quality assurance, company reputation, cost, and delivery time. Finding the right plastic injection molder to fit your needs may seem time-consuming but determining your low and high-volume requirements first and how they may shift over time, will help to narrow down your options.
Low and High-Volume Injection Molding
At Midstate Mold, our production facility is a high-end, efficient operation with several machines and skilled operators. Due to our diverse equipment, we can handle a wide variety of jobs which greatly range in their industries, plastic quality, and the number of pieces produced. Low and high-volumes, from design through manufacturing, can be completed in-house which provides our customers with competitive advantages in cost, quality, and lead times.
Low-Volume Production
This is a specialized service offering full production-quality parts but in volumes usually limited to 10,000 pieces or fewer, depending on the process used. Our low-volume molding, also called short runs, are monitored and controlled so you can be assured of all aspects of mold design and build. This type of production is ideal for small and medium-sized businesses or small-batch manufacturing.
Advantages:
Reduce cost with no minimum orders, less expensive tooling
Provide rapid access to emerging markets
Allow for faster design changes and more design flexibility
Shorten production lead times
Provides a bridge between initial prototypes and high-volume production
High-Volume Production
Injection molding is one of the oldest high-volume manufacturing processes. This is a specialized service offering full production-quality parts in volumes of up to millions of pieces a month. High-volume plastic injection molding allows for high-tolerance precision, low scrap loss, and cost savings.
Much of our high-volume molding equipment is computerized and uses mechanical systems to augment efficiencies and safeguard quality. Make sure to view our blog, "Quality Control: What To Look For In Your Parts Manufacturer," to see how we ensure quality control is incorporated in all high-volume production. This type of manufacturing is ideal for medium and large-sized businesses or mass production.
Advantages:
Produces more parts at a faster pace
Reduce unit costs and cycle time for the manufacturer
Accurate and consistent, high-quality mass production of parts
Production can often be automated with solid, reliable machinery, even during non-work hours
Minimal post-production work
Many companies don't have the capability to provide such a comprehensive start to finish mold making experience. Whether you're looking for a few fast prototypes, thousands of market-ready consumer plastics, or a million production parts, Midstate Mold can provide what you need. Low and high-volume, we proudly insist that each order is of the same level quality. Contact our experts today.