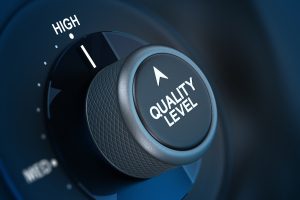 How important is part quality for your plastic injection molded products? Like with all manufacturing, the injection molding process can introduce defects to parts from the cosmetic to the critical. Assuring the quality of the part requires these defect parts located, troubleshot, and removed. The specific needs of the client and the standards for their industry means many different processes and best practices may be called on to meet standards and quality. Let's review six of the standards, processes, and studies we perform during plastic injection molding parts manufacturing.
ISO 9000 Certification
The ISO 9000 (ISO stands for the International Organization for Standardization) is a family of quality management systems (QMS) standards. These standards provide the guidance and tools for companies and organizations who want to meet customer quality expectations and requirements. Think of ISO 9000 as a blueprint for building the right quality management system for any business. Certification requires an audit by an independent body. Recently ISO 9000 was updated to ISO 9001:2015, a standard we currently meet.
FAI – First Article Inspection
A first article inspection is a file for a given manufacturing process that provides design verification and design history using reportable measurements. The evaluation method consists of comparing supplier and purchasers results from measuring the properties and geometry of an initial sample item (hence the term "first") against given specifications in that file. FAI protocols are common in defense, aerospace, automotive, and medical manufacturing.
The Importance of Process Capability Studies
Process capability is the measuring of a process and its output to determine its variability and to compare that variability to a specific specification or process. When a client has a part that has certain specifications or tolerances, a process capability study can be performed to make sure that manufactured parts meet those specifications.
PPAP: Production Part Approval Process
Originally unique to the automotive supply chain, PPAP is a process for establishing confidence for companies in their suppliers and their production processes. Measurements are taken from the actual produced parts and then used to complete "test sheets" produced by the PPAP. It's used to make sure that during actual production at production speeds that parts meet requirements.
The IQ, OQ & PQ Process Validation
A common set of qualification standards used by the FDA and many MedTech organizations, IQ (Installation Qualification), OQ (Operational Qualification), and PQ (Performance Qualification) govern quality standards for equipment used by the manufacturer, everything from being built of the proper materials to proper installation and operation.
What is RoHS and Reach Documentation?
RoHS (Restriction of Hazardous Substances) and REACH (Registration, Evaluation, Authorization, and Restriction of Chemicals) are a European Union directive governing hazardous materials in products, and an EU regulation concerning importing of and manufacturing with chemicals, respectively. Documentation allows all materials and products to be traced and verified by both.
We believe following these quality management systems and documentation not only make for better products, but better relationships between manufacturers and those they supply. For every product Midstate Mold and Engineering produces, we understand our customer's requirements and conform to those requirements. We continuously improve our processes to help meet or exceed customer's requirements. Want to learn more about how Midstate Mold can meet your specifications? Contact us today.