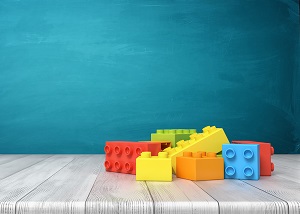 The great thing about working with plastics is there are many to choose from for their different characteristics, abilities, composition, durability, price-points, and more. These can range from plastics that is as hard as metal to plastics that are designed to flex when molded properly as a living hinge. From this wide array of plastics, let's look at one of the most common types of plastic used: ABS plastic, and why you can find it in everything from drainage pipes to LEGO bricks.
The Basics: Acrylonitrile Butadiene Styrene
ABS – full name Acrylonitrile Butadiene Styrene – appears normally as an opaque polymer. Like all polymers, it's a copolymer of the three distinct monomer molecules in its name. This combination provides a versatile and lightweight plastic that is a thermoplastic and impact-resistant that can be tweaked to bring out different qualities. It is easily machined and is used in almost all parts production fields, and ABS plastic for injection molding is no exception.
ABS Plastic Use in Injection Molding
As mentioned above, ABS plastic is ideal for machining, and that is very true in injection molding. It is a versatile plastic, not only in terms of being resistant to damage and impact but also in changing its qualities with the right temperature and resin additives. Some unique qualities of ABS plastic:
Temperature Resistant: ABS plastics are heat resistant as well as having a lower impact resistance falloff than other plastics at colder temperatures.
Heat Morphic: Molding this plastic at high temperatures will produce higher gloss and heat resistance, while molding at lower temperatures improves impact resistance and load strength.
Additive Qualities: Adding fibers (usually fiberglass) increases the strength of the product, while other additives increase heat resistance as high as 176 °F (80 °C). Additives can also help negate aging characteristics like antioxidants and sunlight.
The Usefulness of Thermoplastics like ABS
As we explained earlier, ABS is one of the common plastics used in manufacturing. It belongs to a set of polymers called thermoplastics. These are plastics that after reaching a certain temperature will become soft and pliable and then solidify again upon cooling. Unlike thermoset plastics, these plastics can be reheated after molded to then be reused in molds. This is useful for injection molding as it allows waste from the process to be recycled back into production, as well as making the parts recyclable. In contrast, a thermoset plastic can only be heated once: irreversible chemical bonds form, meaning the plastic decomposes under heat and does not reform upon cooling.
Want to learn more about the types of plastic most often used in injection molding? Check out our blog, Most Common Thermoplastics Used In Injection Molding. Ready to put that knowledge to use? Midstate Mold & Engineering can help. Contact us to consult on your current project, or you can directly request a quote on any or all of the services you need. With more than 180 years of combined experience in injection mold design, tooling, and parts production, we can assist you with every step of the process, from prototype design to making the mold to state-side parts production.