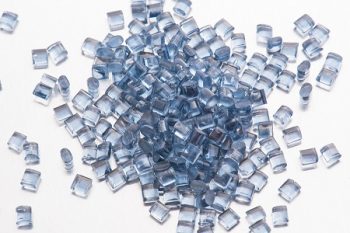 Plastic injection molding is one of the most common and successful methods of manufacturing. It is used to make millions of parts and products each year no matter how small and intricate, from electric connectors to housing filters. In our previous blog, Most Common Thermoplastics Used in Injection Molding, we discussed the performance characteristics of some of the most popular thermoplastics as well as products created in the plastics market. We wanted to take this topic a step further and highlight three other superb thermoplastics used in injection molding.
PPS
PPS (polyphenylene sulfide) is a semi-crystalline, high-performance thermoplastic that offers an excellent balance of properties; including exceptional mechanical strength, high temperature and chemical resistance, flowability, dimensional stability, and great electrical insulation properties. Its heat resistance combined with great electrical insulation properties means PPS is used in many electrical components in place of metals and some thermosets.
PPS is commonly used for lab equipment, cooking appliances, HVAC equipment, industrial applications, and automotive parts such as carburetor components, ignition plates, and exhaust gas return valves.
PEEK
PEEK (Polyetheretherketone) is a semi-crystalline, high-performance engineering thermoplastic with incredible resistance to harsh chemicals, excellent dimensional stability, and mechanical strength. It is best used in applications where thermal, chemical, and combustion properties are critical to performance. This material is tough, strong, and rigid and has superior creep resistance. It can maintain stiffness at high temperatures and suitable for continuous use at temperatures over 300 degrees.
The performance characteristics of PEEK include its strong chemical and hydrolysis resistance, low smoke and toxic gas emissions when exposed to flames, easily machine and fabricated, and excellent fatigue resistance.
PEEK is commonly used for aerospace parts, automotive parts, vacuum wand handles, medical instrument parts, pump and valve components, semiconductor machinery components, and electrical connectors.
PEI
PEI (Polyetherimide) is a high-performance engineering thermoplastic with outstanding dimensional stability and is inherently flame retardant. PEI is resistant to acids, alcohols, and hydrocarbon solvent, but dissolves in partially halogenated solvents. Some of its characteristics include high strength and rigidity at elevated temperatures, long-term heat resistance, dimensional stability and great electrical properties.
PEI is commonly used in the medical/healthcare sector for disposable and re-usable applications, as well as the automotive and aerospace markets. Over the long term, PEI's creep resistance allows it to replace metal in many structural, industrial, and household and domestic applications. It is best used in applications that require high heat resistance, high strength and modulus and broad chemical resistance.
Choosing an experienced injection molder that provides design consultation, like we do, is one of the most important factors in your production process. Designing a plastic part for manufacturability involves many components that pertain to all areas of material selection, part design, production, and quality control. If you still have questions about which common thermoplastic used in injection molding would best fit your application, contact the experts at Midstate Mold to guide you to the perfect thermoplastic.