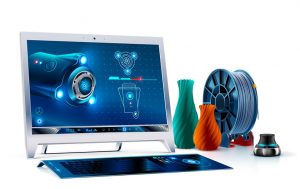 For many businesses, looking for a parts manufacturing vendor happens late into the design process, often after you're deep into the design phase. This has its advantages, as the scope of the product has already been figured out and having a CAD or physical prototype allows for quicker mold design. However, it's not usually the right decision when it comes to the end product. Work with your vendor early in the design process, even before prototype development, can result in a product that's easier and less costly to manufacture, with fewer mold design and injection molding production problems.
Designing Your Part with Manufacturing in Mind
One of the common issues we see with part prototypes that are brought to us is design choices made with the end user in mind instead of manufacturing practicalities. While it's important to have a product with a great user experience, often these can result in a product that is wasteful, inefficient, or problem causing from a manufacturing standpoint. Working with a manufacturer before you've become married to the design of a product creates a great product that is easier to make.
Creating Efficient Prototypes with Manufacturers
So how does working with a manufacturer for design prototyping help design a superior product? It's all about industry experience. Over the years, we have seen thousands of digital and 3D prototypes. Early in the prototype design process, there are often important decisions made. This works in a few ways:
Tools for Collaboration: Digital CAD Files
When it comes to parts creation, we use SolidWorks CAD to review potential designs and develop prototypes. This tool allows us to look at any designs you have from the injection molding production standpoint, looking at parts for areas that could be problematic for design. Using SolidWorks, we can spot part aspects that need to be redesigned to avoid common part issues that can result in higher manufacturing defects or costlier mold designs.
It's vital that you have experienced eyes to review your part design, analyze it, and give you honest feedback. At Midstate Molding & Engineering, we have a team of skilled experts with over 180 years of experience in mold making. Contact us to learn how we can help and to determine if we are the right partner for you. Want to get started with a quote? Learn what you should have ready in our article, Plastic Injection Molding Quote: What to Have Ready.