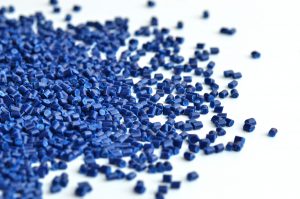 When you talk to a plastic injection molding company – either for mold making or parts manufacturing – the type of plastic you'll want to use will come up. Largely, this choice will fall on your company to meet your specific needs and avoid liability, so you must make an informed decision. One type of plastic they might suggest is thermoplastics – here at Midstate, it's all we use. Learn why your injection molding manufacturer is using thermoplastics and what makes it a great choice.
1. Thermoplastics are Reusable and Recyclable
Plastic injection works by heating plastic and then injecting it into a mold. With thermoplastics, once this plastic cools and hardens (cures), it's good to go. However, if it's heated back up to that melting point, it will re-melt and be ready for use again. This product is perfect if you want a recyclable product. As a bonus, depending on the needs of the client and the type of plastics, excess plastics from shearing and runners can be recycled back into the batch to reduce overall manufacturing costs.
Thermoplastics vs. Thermoset Plastics
Contrasting with thermoplastics, thermoset plastics "set" after they cure during the injection molding process. Thermoset materials, when heated, starts a chemical process creates permanent links between molecular chains (cross-links) during the curing process.
Thermoplastics are more impact and shatter-resistant due to their inherent flexibility. The cross-links in thermoset plastics provide additional strength, but at the cost of reusability. Thermoset plastics also have higher thermal and chemical resistance due to the bonding process, but the plastic is becoming harder to source as more companies make the switch to thermoplastics.
For more information comparing and contrasting these two types of plastics, check out our blog, Injection Molding Plastic: Thermoplastic vs. Thermoset.
2. Some of the Most Popular Plastics are Thermoplastics
Below are four of the most popular thermoplastics – you can find them in products you use every day from the plastic your food comes in to durable parts in your gear and appliances.
Acrylonitrile Butadiene Styrene (ABS): An opaque polymer that is a versatile and lightweight plastic. It is both temperature resistant and heat morphic. Find out more here.
Polypropylene (PP): Commonly used in packaging and textiles. Its high flexibility makes it an ideal choice for non-loadbearing parts, including working as a living hinge.
Polyethylene (PE): Multiple types of density due to its variable crystalline structure such as High-Density Polyethylene and Low-Density Polyethylene. Similar to PP but more versatile.
Polycarbonate (PC): The go-to for transparent plastics as a naturally transparent amorphous thermoplastic (similar to glass in light transmission). Robust and a natural UV filter.
For an in-depth look at all of these plastics, check out our blog: The Most Popular Thermoplastics Used in Injection Molding.
Want to learn more about your thermoplastic options when it comes to injection molding? Here at Midstate Mold & Engineering, we can guide you through the entire process from mold design to parts manufacturing. Contact us today to get started. Make sure to also check out our other blogs on types of plastic for injection molding here and here.