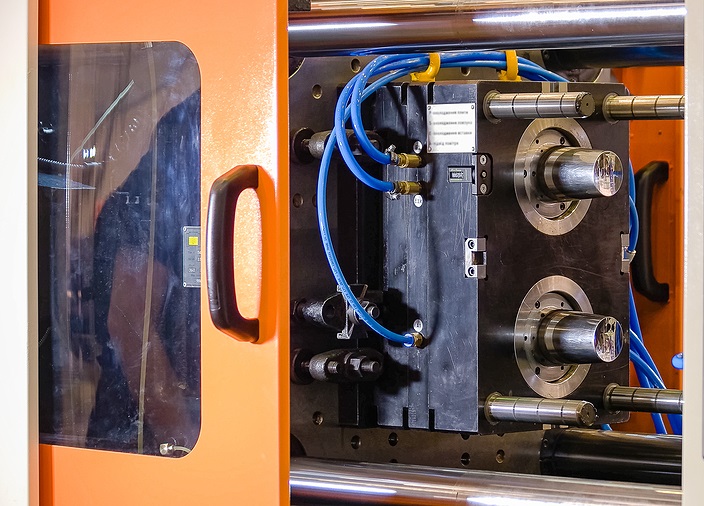 The goal of every plastic injection mold and parts manufacturer is to have each mold and part come out without issue or defect. However, like with all manufacturing processes, these flaws can be introduced due to a myriad of situations. Today, we're looking at the plastic injection molding defect known as burn mark defects—what they are, what causes them, and how your injection molder can help avoid it in the first place.
What are Burn Mark Defects?
Burn marks are discolorations, usually dark reddish-brown or black streaks, on the surface of the final molded part. This defect has several possible causes, but it all results from trapped air being trapped in the cavities of the injection mold. During the injection phase (or filling stage), the air trapped inside the cavity mold is highly pressurized and becomes superheated, scorching the plastic. The dark color is carbon residue from the burned front edge of the flowing plastic.
Common Causes of Burn Mark Defects
As mentioned above, the common cause of burn marks is trapped air. Those pockets of air, as they become compressed due to the immense pressures of the filling mold, become superheated and cause a "diesel effect" (sometimes known as "diesel ignition" or "diesel burning). Much like the combustion engine after which this effect is named, the high hot pressure reacts with the melted hydrocarbons of the resin and combusts, leaving behind the burned plastic that gives this defect its name.
For this defect to occur, there needs to be a failure of proper venting in the injection process, causing the perfect conditions for a burn mark defect. If you're getting these with your parts, there are three common causes:
Burn Mark Cause One: The Mold
A mold is not empty when plastic enters it—it's full of air. When the air gets trapped in a mold in such a way as to cause this violent defect, that's a sign of a major issue with proper venting on the mold. Just like with gates, vents can be added to existing molds, but just retooling can be expensive in both the short and long term—especially if that's only one of the issues.
Burn Mark Cause Two: The Machine
Of course, the pressure doesn't come from the mold but from the injection molding machine. Too high of a melt temperature can help create the temperature needed for ignition, while too high of an injection speed can contribute to the air pockets forming that cause burn marks or other defects, such as vacuum voids and gas pockets.
Burn Mark Cause Three: The Polymer
If multiple types of resin are used in the same machine, improper purging of the previous type can also lead to diesel ignition. The polymer also needs to be properly dried before use in injection molding, lest it leads to expanding steam causing conditions for burn marks.
Troubleshooting Injection Mold Defect with Manufacturers
Here at Midstate Mold & Engineering, we're in a unique position to help troubleshoot these defects as we do part and tool design, mold manufacturing, and plastic injection part production all in-house. With rigorous QA standards, specialized drying equipment, and experts in tool relocation and reshoring, we can help you not only troubleshoot existing molds but also make new ones from the ground up using part prototyping and test molds to make better parts free of defects.
It's important you have the best mold and part manufacturer so you don't run into defects that cause costly part finishing and discarding or mold redesigns. Work with an injection molding company that understands the process and tool creation and troubleshooting. Work with us. Contact us to consult on your current project, or you can directly request a quote or call us at 1-508-520-0011 on any or all of the services you need.