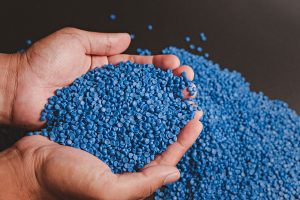 An often-overlooked part of the plastic injection molding parts manufacturing process, the use of a resin dryer is a key part of producing quality parts, every time. Today we're going to look at how properly dried polymer resin in manufacturing can be such a big deal, how dryers fit into a larger plastic injection molding QA program, and how not all dryers are created equal.
Why is There Water in Feedstock Resin?
You're already aware of the complex (and often fragile) web of logistics that are required to bring a product to market, but it's easy not to think about the environment these products travel through. During manufacturing, loading, transport, unloading, and sitting in warehouses or at the factory, plastics can be exposed to moisture due to weather, the climate (especially at sea), and humidity. What happens? It depends on the plastic.
Hygroscopic Polymers
These polymers include Nylon, ABS, Acrylic, PET, PBT, Polyurethane, Polycarbonate, and many more. These resins absorb moisture internally and release moisture through the air. Since this is internally absorbed, surface drying is not enough—these resins require specialized dryers.
Non-Hygroscopic Polymers
These polymers include PVC, Polypropylene, Polystyrene, Polyethylene, and many more. These resins do not absorb moisture internally into the pellet. However, moisture can be collected on the surface of the pellet. These can be dried more easily by less specialized equipment.
Properly Dried Polymer Resin as Part of QA
The moisture contained within the plastic may seem like a small aspect of processing, however, if not controlled, it can make it nearly impossible to produce quality plastic parts. Resin drying prior to processing maintains the performance characteristics of your resin and ultimately your parts. Common QA problems with moisture-filled resin include:
Cosmetic Part Defects: Under the intense heat of the melting process, surface moisture can steam off, causing cosmetic defects known as splay or silver streaking.
Structural Part Defects: When water is in resin, especially internally, it can also cause damage to structure properties known as hydrolysis, causing defects such as delamination and air pockets.
Complete Part Failure: When drying, if the maximum level of moisture appropriate for processing is not reached, premature part failure and structural defects can occur.
Learn more about the importance of drying in the QA process in our blog, The Importance of Drying Plastics: Plastic Part Making.
Why We Use Desiccant Dryers Over Other Options
When it comes to drying resin, there are three kinds of dryers on the market. Hot air dryers are the most economical in terms of cost and power usage but can only remove surface moisture. Compressed air dryers are the next step up, utilizing the same tech with compressed air to create a difference in atmospheric pressure that can drive out internal moisture.
Here at Midstate Mold, we use desiccant dryers, considered the gold standard in the polymer drying business. These are quick and efficient dryers that, while having a higher up-front cost, are more efficient (in terms of energy efficiency, size, and processing speed) by use of desiccant beads and compressed air. We've been using them for years and just bought the latest version of the HPD Series: 4-Bed Portable Desiccant Dryers.
We have a long history of building the best—be it prototyping builds, building molds, or manufacturing parts. The desiccant dryer has proven to still be the most versatile and rugged type of dryer that has the flexibility to work in aggressive work environments with numerous types of resins, and it's only one part of our rigorous QA. Reach out to us to learn more about Midstate, including contacting us online or getting a quote today.