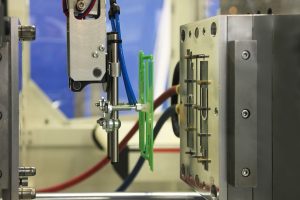 The goal of every plastic injection mold and parts manufacturer is to have each mold and part come out without issue or defect. However, like with all manufacturing processes, these flaws can be introduced due to a myriad of situations. Today, we're looking at a common issue with plastic injection molding that goes by multiple names: flash, spew, or burrs, in which there is excess material attached to the part. In this blog, we're going to review the molding defect, its causes, solutions, and how to avoid it in the first place.
What is a Flash Molding Defect?
When plastic is injected into a mold, it's under a significant amount of pressure. Under ideal circumstances, when the plastic enters the mold, it fills the mold (the first stage of plastic injection) and is then held there at pressure (the second stage, pack/hold). However, this pressurized molten plastic may attempt to push out of the mold either between the two parts of the mold out between mold plate surfaces or at injector pin sites.
Once the part is ejected, this defect manifests as a thin lip or protrusion of excess plastic along the edge of a part. The severity of this defect will depend on both the cause and type of product: some parts will have a higher quality tolerance that makes a flash defect untenable.
Related, But Not a Defect: The Witness Mark
A related condition is the witness mark – also known as a witness line. This mark occurs along the parting line between the plates. Normally considered a non-issue besides a minor aesthetical flaw, some parts of either high visibility or high tolerances (such as parts that have to form perfect seals) require the same defect treatment as a flash defect.
Causes of Flash, Spew, and Burrs
There are several root causes that can create flash on part surfaces. Many stem from the mold itself, but others can be compensated for by adjusting the injection machine or material used:
Mold Wear Issues: The most common issue that causes flashing is a worn or old mold that no longer fits tightly together, allow the plastic to leak out. This is addressed via mold repair or redesign.
Mold Design Issues: A mold may also just be poorly designed, either with gaps that cause flashing or pressure issues due to multiple parts or overly complex geometries that cause poor fits. The mold may have to be redesigned or retooled.
Pressure and Flow Issues: Flash can be an indicator of pressure or temperature issues in the mold. Redesigning the mold with better gates or hot runners can assist in dealing with the issue.
Mold Clamping: Lastly, the issue could be that the plates are not clamped with sufficient force to avoid resin forcing its way between plates. Increasing the plate clamping force or moving the mold to a machine with higher clamping force can solve this issue.
The Time Sink of Deflashing or Deburring
As an alternative to dealing with the root cause, or as a way of dealing with small amounts of flashing or as a temporary solution, parts can have the flash removed after the part is produced in a process known as deflashing or deburring. This can be done manually (manual deflashing) by operators using hand tools, commonly between cycles. It can be done via flash-freezing the burrs via liquid nitrogen (cryogenic deflashing) for greater precision and not affecting the finish. Lastly, it can be automated (mechanical deburring) through tumblers, auto grinders, and the like. All processes can be time-consuming and lead to greater costs per part.
It's important you've got the best mold and part manufacturer to avoid defects that cause costly part finishing and discarding or mold redesigns. Work with an injection molding company that understands the process and tool creation and troubleshooting, like Midstate Mold & Engineering. Contact us to consult on your current project, or you can directly request a quote on any or all of the services you need. Make sure to read up on other common inject molding defects, such as vacuum voids, splay, and short shots.