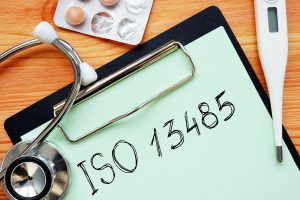 When it comes to making medical products, the functionality of your devices is literally a balance of life and death. That's why the medical industry relies on standards that govern design, safety, and materials used. Let's go over the four most common ISO standards for medical devices you should take into consideration during design and manufacturing, as well as the ISO standards and other manufacturer standards you should look for in an injection molding company that will be helping you create the parts for it.
ISO: What is the International Organization for Standardization?
The ISO (which stands for the International Organization for Standardization) is an international body that sets standards designed to help organizations sufficiently meet the needs of stakeholders—whether those are customers, employees, business partners, or others—while at the same time adhering to regulations pertinent to their product or service. With members from across the world, the ISO publishes international standards in all fields other than electrical and electronic engineering, which are the responsibility of the International Electrotechnical Commission (IEC).
Learn more about them and their relationship with the manufacturing industry in our blog, The Importance of Being ISO Certified.
Top 3 Relevant ISO Standards for Medical Device Manufacturing
There are many ISO standards that will affect your medical product every step of the way from design to manufacturing to use. Here are three to keep in mind when thinking about manufacturing:
ISO 13485 specifies requirements for a medical device manufacturer's Quality Management System (QMS) with a focus on safe and regulatory-compliant standards.
ISO 14971 is about risk management for medical devices, specifically the identification, evaluation, and risk control of hazards throughout their entire lifetime.
ISO 10993 focuses on the biocompatibility of the device. Is it safe to come into contact with a patient, including tissue and bodily fluids? This includes the materials it's made from.
Note: this is only scraping the surface of ISO standards and doesn't include standards like IEC 62304, which is about medical software standards from the IEC, which works closely with the ISO.
ISO Standards to Look for in an Injection Molding Manufacturer
So while these standardizations are important for your device, what standards are important for your plastic injection molding manufacturer? As seen above, a large focus is on the safety of the manufactured device—not only Quality Management System (QMS) but even the material selected. A good place to start is to see if your manufacturer is certified for the ISO 9001 standard (ideally the upgraded 9001:2015). These standards mean better quality control and traceability in medical devices, including around:
Purchasing third-party components and sub-assemblies
Acquiring raw materials (i.e., plastics)
Designing/implementing inspection procedures
Fulfilling production processes
Troubleshooting defects
At Midstate Mold, we've been manufacturing injection molds and parts for the medical industry for almost 60 years, with a focus on rigorous standards and quality assurance that has kept us at a nearly 100% customer retention rate. We know the difference between normal and medical plastic injection molded parts and can help you make the best medical device, from design to manufacturing. Contact us today to start talking.