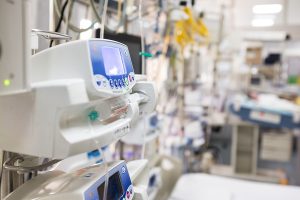 We're proud to be a mold maker and plastic parts manufacturer with many clients from the medical market. For those outside or just starting in the medical industry, it can be surprising how different and rigorous the demands and tolerances for medical plastic injection molded parts is vs. their commercial industry counterparts. Today, we'd like to look at three major places—plastics, QA, and traceability—these parts need to excel at to meet the requirements of the medical industry and patient use.
Medical Plastic Parts Require Specific Polymers and Additives
One of the major strengths of plastic injection molding is the staggering array of plastics available for use, compounded by additives that can be adjusted to shore up physical properties or additional functionality. Learn how you can work with a manufacturer to get the most out of your piece with:
Picking the Right Plastics: Polyetheretherketone (PEEK), Polycarbonate, Polyethylene, and Polypropylene are all great choices for medical-grade plastics thanks to their resistances to things like heat, wear, and radiation. Learn more about their specifics in this blog.
Building Around Use: Is your part designed to be single-use or reusable? Can it be made in a single part using double-shot or overmolding? It's important to work early with a manufacturer to not only make a plastic part that meets requirements but is cost-effective.
Including Antimicrobial and Antiviral Additives: Products can be added to plastics to make them hostile to viruses and bacteria, which both degrade the part and pose hazards to humans. Chemical-resistant additives are also popular for parts that can be cleaned and reused. Learn more in this blog.
Medical Parts Need Higher Quality Assurance
While quality assurance is important in every industry, it's particularly true in the medical industry where lives are on the line. Healthcare workers need to rely heavily on certainty and consistency when operating devices, so manufacturers need to ensure their plastic injection molded parts meet the challenge of avoiding part defects. You need a manufacturer who has the QA processes and equipment in place as well as a great track record when it comes to parts. We're ISO 9001:2015 certified, which means better QA in:
Purchasing third-party components and sub-assemblies
Acquiring raw materials (i.e. plastics)
Designing/implementing inspection procedures
Fulfilling production processes
Troubleshooting defects
Learn more in our blog, Quality Control: What to Look for in Your Parts Manufacturer.
How Traceability is Key in Medical-Grade Parts
Manufacturers involved in the medical sector employ a method of tracking devices for which a defect or failure will likely result in detrimental health consequences. Traceability in the medical industry is a required step that mitigates liability, uncovers where the issues originated from, and reveals the products that are impacted. When employed correctly, manufacturers can quickly shut down production and recall the parts. But not all manufacturers are up to the task; full and detailed traceability needs to be built into the inventory system, machine operations system, and all other aspects of manufacturing execution technology.
At Midstate Mold, we're proud to serve the medical market (along with others) with parts that are designed, manufactured, and controlled to the highest standards—through COVID, and before and after. We're familiar with the ins and outs of the medical field and have experience with everything from prototype development to production. If you need assistance making the shift from normal to medical plastic injection molded parts, contact us today.