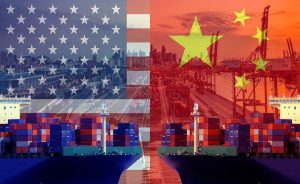 If your company exports or imports, you're already aware of the trade war between China and the United States. We've had current and potential clients reach out to us about their concerns about how current or proposed tariffs (or the simple threat of tariffs) are hurting their production. If your business currently has a mold in China producing parts for import into the US and is being hurt by time or cost increases from the ongoing tariffs, it's important to learn about your options – namely tool relocation.
China-US Trade War: The Story So Far
While some of the tariffs placed by the US on imports have been global (such as steel and aluminum), many have been directly targeting Chinese goods that cover the gamut from batteries to weapon systems. As the US imposes tariffs, China has retaliated in turn, target similar sectors of US exports and those with similar financial impact.
The US cites two major points for the current trade war: undermined intellectual property rights and an unfair trade deficient between the two countries due to trade barriers imposed by China on certain imports. The IP theft accusations are particularly important as the current administration relies on Section 301 of the Trade Act of 1974, which allows measures to be taken for unfair trade practices and the theft of intellectual property.
How Tariffs Impact Injection Molding
During this trade war, tariffs are often used in "tit for tat" retaliation, while both sides trying to mirror the economic impact of the other's tariffs. In April of 2018, China places tariffs on US resin exports, including general and specialized resins often used in injection molding. In June of 2018, the US moved ahead with placing tariffs on plastic machinery and parts, including commonly used plastics like polypropylene, polyethylene, vinyl, fluoropolymers, acrylic, polycarbonate, and PET. This has had two major impacts:
The cost of plastic in china has increased, leading to a higher per-part production cost.
The cost of importing parts or completed machinery has increased overall costs from tariffs.
Why Businesses are Turning to Tool Relocation
While initially Chinese mold tools were on the list, the 25% tariff was lifted back in at the beginning of January. This is in part to mounting pressure for businesses to find a cost-effective way of continuing business, and for many, the solution has been to move manufacturing stateside. Tool relocation is the method of moving your tool from one manufacturer to another.
Don't Worry About Mold Transfers
When we talk to clients initially about moving their injection molding manufacturing stateside, some are concerned about complications. The three most common are switching manufacturers, running out of parts, and damaging the tool in transit. All three problems are solvable by building up backstock to making sure your shipping is completely insured. Read some of our blogs on the process:
Perks for US Assembly and Markets
We've had many clients who have taken our mold designs and opted for offshore tooling, which had a cost-savings appeal that made a lot of sense if you were going to also manufacture your parts and sell final products in the same country. As businesses bring their tool back to the states, it's important to know you'll find new perks manufacturing in the US:
Closer to Market: Having your plastic parts made in the US means your lead times for shipping can be smaller and more agile, allowing you to focus on lean manufacturing. No slow boats.
Plastic Selection: The US has always had a wider array of plastics usable in injection molding, allowing for more performance. This is especially true as Chinese tariffs drive down their costs.
Interested in learning how you can get your injection molds stateside and set up? It's time to contact Midstate Mold. We work with your current manufacturer to transfer the part and use our full tool workshop to validate and repair all tools we bring in. Learn more about our tool relocation process, as well as using our in-house plastic injection molding machines for your part manufacturing.