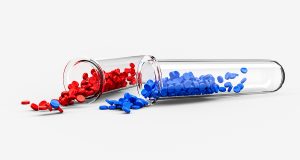 One of the major strengths of polymer resins in injection molding is the staggering array of plastics to choose from in the use of your part molds. There are plastics that are flexible, rigid, transparent, heat-resistant, strong, and other characteristics. Today we're talking about another exciting feature: they are also combinable. Much like with metals, polymers can be combined to make new blended plastics with both or new strengths. Let's go over three of the most popular resin combinations for plastic injection molding and where to go from there.
PC-ABS Combination: Polycarbonate/Acrylonitrile Butadiene Styrene
Two of the most common plastic resins in use, a combination between polycarbonate (PC) and acrylonitrile butadiene styrene (ABS) blend some of the great resistances of polycarbonate and the high manufacturability of acrylonitrile butadiene styrene. The resulting blend is:
Lighter than ABS alone, as polycarbonate has a lower molecular weight.
Strong and resistant to heat and chemicals, making them good for electronics and automotive parts, as well as easy to color or use in 3D printing.
Cheaper than just using PC, perfect where you need some of the strengths of polycarbonate but also need to cut costs.
ABS-PVC Combination: Acrylonitrile Butadiene Styrene and Polyvinyl Chloride
Another popular polymer, polyvinyl chloride (PVC), is by itself a solid choice in manufacturing; it's hard, rigid, and relatively cheap—making it a popular option in many industries, such as car manufacturing. Here's what you should know about using PVC and ABS together:
Combining these removes some of the weaknesses of both. PVC does poorly in high temperatures with low thermal resistances, while ABS is softer and weathers easier in the elements.
Combined, these two have higher impact and rigid strength, perfect for electronic parts that see a lot of use like outlet plugs and light switches.
PVC is cheaper than ABS, so the resulting resin is cheaper, meaning this blend is used as much or more than PVC alone in industries like the automotive sector.
PA-PPS Combination: Polyamide and Polyphenylene
The synthetic polymer polyamide (PA, or more popularly known as Nylon) is a popular alternative to similar materials, such as latex, rubber, and silk. A popular plastic to combine it with is polyphenylene sulfide (PPS), a higher-grade specialty resin with exceptional resistances and stability. Together they create:
A plastic much more resilient than PPS alone, which lacks very good impact resistance and is therefore more fragile.
A much more resistant polymer due to PPS's high chemical and heat resistance and better mechanical properties.
A great plastic for specialty needs, on everything including heat and impact-resistant automotive parts to food-safe contamination protection in the food and beverage industry.
Choosing the right resin or popular resin combination for your plastic injection molding is a crucial factor in creating the right part for your product. At Midstate Mold, we have developed long-lasting and trusting relationships with the best resin suppliers nationwide, combined with years of experience in the plastic injection molding prototyping, mold making, and production industry. If it's time to consult the experts on your next project, contact us today!