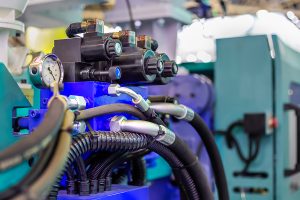 The goal of every plastic injection mold and parts manufacturer is to have each mold and part come out without issue or defect. However, like with all manufacturing processes, these flaws can be introduced due to a myriad of situations. Today, we're looking at a common issue with plastic injection molding known as sink marks – or sometimes just "sinks" – that often can show underlying issues with the mold and polymers of the product. In this blog, we're going to review the sink defect, its causes and solutions, and how to avoid it in the first place.
What is a Sink Mark Molding Defect?
A sink mark molding defect comes from the combination of two issues: a part of a mold that is too thick and the uneven cooling of the polymer in that section. When it occurs, the outer part of this part's section cools faster than the internal part. This cooling leads to shrinkage as the polymer begins to pull away from the center, contracting to leave the concave defect known as a sink.
Unlike some molding defects, such as splays, which are cosmetic, sink marks instead can cause structural problems with the final product, as well as pointing to deeper issues with the mold, resin, and molding machine; we'll go over these below.
Common Causes of Sink Mark Defects
Like with many common part defects, sink marks come from the interplay of mold and polymer, mostly around the cooling process. However, sometimes, sink marks are a sign of underlying issues with the mold or part design.
Polymer Temperatures: All resins have specific melt temperatures they need to operate within to be effective. Knowing the resin and its ideal melt temperature is a key part of injection molding manufacturing.
Not Enough Hold Time: As the injection continues, some of the plastic begins to cool and shrink. To ensure the cavity is filled, additional material is injected and "held" to prevent backflow. If this hold time is too short, sink marks will form.
Not Enough Pack Pressure: In the second stage, along with hold, is "pack." The pressure needs to be high enough to reach any shrinking material to avoid sinks.
Issues with Mold Temperatures: While sinks form from the temperature variance between mold and polymer, they can also be caused by hot runners or heated molds. Make sure the heat from these isn't exceeding resin temps, and there are no "hot spots" caused by heating issues.
Mold Part and Tool Design: As mentioned above, the thickness of the part is the most common issue. A part or mold that is incorrectly designed, including issues with wall thickness or gate design, might cause sinks regardless of the other conditions being met.
The Importance of Working with Manufacturers on Your Mold
Here at Midstate Mold & Engineering, we're in a unique position to help with part and tool design, mold manufacturing, and actual plastic injection production. Many defects like sink marks have root causes in the mold itself and the part being made. Sometimes the best solution is tooling and part prototyping with a vendor to make a better part that avoids this defect and others. Learn more about how you can work with a full-service manufacturer like Midstate every step of the way in our blog, Design for Manufacturing: Working Early with Vendors.
It's important you have the best mold and part manufacturer so you don't run into defects that cause costly part finishing and discarding or mold redesigns. Work with an injection molding company that understands the process and tool creation and troubleshooting, like Midstate Mold & Engineering. Contact us to consult on your current project, or you can directly request a quote on any or all of the services you need. Make sure to read up on other common injection molding defects, such as vacuum voids, flash, and short shots.