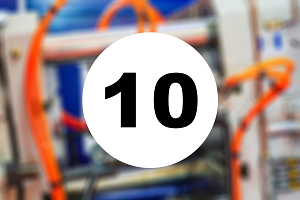 Whether this is your first product or your fortieth, if you're not currently using plastic injection molding, you're missing out on some great manufacturing options. Regardless of if your concerns are part accuracy, using plastics instead of metals, or if it's really the most cost-effective option for your needs, we think this top ten list will help convince you to revisit using plastic injection molding for your product.
1. Volume of Production
Once the mold for a plastic part is created, the volume of production can be scaled up or down at need, from a few thousand a month to over a million. Multi-part molds and different plastic resins can extend that number even further. Learn more about low and high-volume production.
2. Part Accuracy and Quality
Plastic injection molded parts can have as high an accuracy and quality as needed. Especially using state-side manufacturers, accuracy will be well within 0.001 inches and through quality control measure like ISO Certification guarantees your parts are all of the highest accuracy and quality.
3. Cost Per Plastic Part
After the initial cost of the injection mold, the cost per part is very, very low. While your resin selection will contribute to the range of cost, with a low overhead in terms of manpower and machine wear, costs per part are lower than any other manufacturing option at high production volumes.
4. Strength of Polymer Resins
Did you know that plastic parts can be as strong as steel? This comes from two major factors: modern plastics that can be super-strong and the ability to design plastic structures to maximize engineered strength in ways metals can only dream of.
5. Versatility of Polymer Resins
Speaking of engineering designs, plastic injection offers options you can't find in other mediums. With the right plastics and designs, your plastic can take on even more complex features, such as the living hinge that provides more flexibility and lowered costs.
6. Complexity of Parts
Plastics and their inject molds allow for greater design freedoms than many other manufacturing features. Under the hands of an expert mold maker, you can produce parts and sets of parts that require less work after manufacturing, from smoother finishes to intricate designs.
7. Recyclability and Green Options
Does your business and its customers value greener and leaning manufacturing? Many plastics used in injection molding are thermoplastics: recyclable and reusable both in manufacturing and for end-users. There is also the ability to use biopolymers – plastics made from renewable biomass such as woody fibers and starches.
8. Co-Injection, Double-Shot and Overmolding
Parts don't have to be made of a single plastic. Overmolding and double-shot molding allows two plastics with different qualities (such as flexible and hard) to be joined together in the mold. Co-injection molding allows one polymer to be injected as the core of another, allowing for more flexible and cheaper parts.
9. The Popularity of Injection Molding
The wide-spread use of injection molding means you have more flexibility where your molds and parts are produced. Overseas molding has its benefits and drawbacks, depending on your needs. However, if you ever need to you can always relocate your tool to another manufacturer.
10. Market-Specific Materials and Standards
Plastic injection molding has been around for a long time, and has the tools and standards to meet multiple markets. For example, if you're making medical parts and need traceability, there are options to make sure every part can be traced back to its batch.
Here at Midstate Mold, we pride ourselves on comprehensive mold making from assisting in prototype development, tooling design, tool construction and testing, parts production, and parts maintenance. Contact us today to learn how plastic injection molding is the right option for your product.