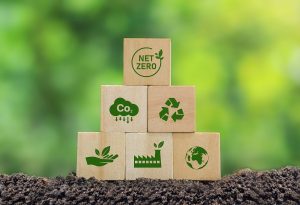 Increasingly around the world – especially in the west and the United States in particular – is a push from consumers, employees, and regulatory agencies to increase sustainability in companies. From green power and carbon offsets to making greener products, it's something everyone is searching for – especially when working with plastic injection molded parts. Learn what to look for when finding your sustainability partner in injection molding, including how being more sustainable comes in many shapes and forms.
They Understand the Role Plastics Play in the Environment
When it comes to injection molding, every little bit of efficiency can make a big difference to both the environment and the bottom line. The thing is: it doesn't need to be one or the other. Here at Midstate, we help close this loop by exclusively using thermoplastics, that is, plastics that can be reused. Not only does that make them recyclable, but it also means we can regrind waste plastics to reuse right then and there. Another good focus is Quality Assurance so that parts don't need to be recalled or tossed out due to defects, meaning less is lost.
How Tool Reshoring Factors into Sustainability Practices
Where your products are manufactured plays a key role in the sustainability of your product, especially when it comes to its carbon footprint. Consider not just the country that factory is located in, but also how far away it is from you and your consumers, including:
Transportation and Logistics Costs: While manufacturing your plastics in another country can reduce costs, the carbon footprint of transportation (overseas, trucking, planes) adds up.
Green Policies of the Country: Not all countries (or states within the US) have the same sustainability policies, especially manufacturing hubs like China and India.
Sustainable Resins Availability: Depending on who your work with and where they are located, you may not be able to use the greener and recyclable polymers you want to.
It might be time to look at tool relocation to the US. Learn more about the benefits of local manufacturing in the US.
They Implement Sustainable Solutions like Biopolymers
The rise of biopolymers – renewable plastic material manufactured from biomass – in manufacturing is allowing companies to reduce the amount of single-use plastics that end up in landfills. Made from materials such as corn, wheat, sugar cane, and potatoes, these products can be biodegradable, compostable, or recyclable. Especially for packing and the food industry, these can provide better options for end-users and their customers.
At Midstate Mold, we pride ourselves on being a turnkey manufacturer for clients with a mind toward their customers, the environment, and quality parts. We can answer any questions you might have by starting a quote today (here's what to have ready). We're capable of executing all five phases of the injection molding process in a manner that saves you time and costs. If you'd like to learn about how we provide our clients with mold design and plastic injection molding with sustainability in mind, contact us today.