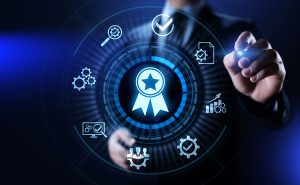 There are many manufacturers that can make parts for your product. While we're of course partial to injection molding, regardless of the process and the company, there are some key things that any manufacturer should have. One of those is certification – certification in whatever process they use, quality control, material sourcing, etc. In this post we'll look at the types and specific certifications and standards you should look for when working with a manufacturer.
Design and Production Certifications
Certifications should already be in effect before any production starts. Do they have the training and certification on the designs that will lead to production? For example, in the injection molding industry, SolidWorks CAD is the gold standard to properly model and digitally test CAD files before the mold is even designed. Likewise, IQ/OQ/PQ process validation govern quality standards for equipment used by the manufacturer, everything from being built of the proper materials to proper installation and operation.
Quality Control and Assessment Certifications
How does your manufacturer make sure the parts it makes for you are up to the standards of your company, the industry, and your consumers? A common certification is the ISO series (we meet the current ISO 9001:2015), the International Organization for Standardization family of quality management systems. It's a vital certification for any manufacturer, but they can also go above and beyond with tools such as First Article Inspection, Process Capability Studies, and even PPAP. Learn more in our blog, Plastic Injection Molding: How Manufacturers Check Part Quality about each of those standards.
The Importance of Material Safety and Sourcing
Lastly, how good is your manufacturer certification for the materials they will be using for your products? In some industries, such as the medical field, being able to trace materials up and down the pipeline is vital – potentially life or death. Knowledge and compliance with EU laws such as RoHS (Restriction of Hazardous Substances) and REACH (Registration, Evaluation, Authorization, and Restriction of Chemicals) are vital to this process. It's important to think about ethics as well. What is your manufacturer's policy on conflict minerals?
Certification and Quality Assurance Your Barometer
Looking at the certification and other quality standards and systems of a manufacturer can tell you a lot about them, from how good your final products will be to what shortcuts they might be taking to give you that lower bid. Make sure to have a full consultation with any manufacturer you're thinking about working with and ask to see what standard they hold themselves to. Find out more in our blog, Quality Control: What to Look for in Your Parts Manufacturer.
If you're thinking about using plastic injection molding for your next product, check in with us here at Midstate Mold & Engineering. We provide full service, from prototyping to mold making to parts production. We believe above all else that the quality of our services speak for themselves. Want to get started? Contact us today or request a free quote.