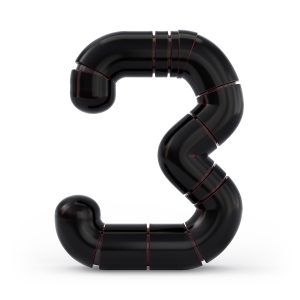 Every modern manufacturing method has its strengths and its weaknesses. 3D printing may be fast and relatively cheap, making it great for prototyping, but it cannot be scaled up for mass production. CNC milling can produce complex parts out of very hard materials but at a high cost. There are limitations of plastic injection molding as well, but there are also ways to offset many of these weaknesses with a little foresight, especially when working with the right vendor early in the process. Learn our top three tips for getting your parts made with injection molding the right way.
1. Designing Your Parts with Plastic Injection Molding in Mind
When you're designing your parts, it's always good to do so with the manufacturing process in mind. Depending on the injection molding machine and resin used, you'll have limitations on the size and thickness of the product – both practically and to avoid part defects.
Understanding Part Size and Thickness: Parts should be designed with injection molding in mind, which means avoiding part designs too big or thick for plastic to flow through and cool.
Designing Parts with Gates in Mind: The injection sites on molds are known as gates. The placement of these gates, as well as their size and number, may require changes to part design and placement within the mold.
The Importance of Prototype Tooling: Mold creation is a costly endeavor, so many manufacturers recommend mold prototyping first to make sure no expensive changes need to be made after the final mold is created.
2. Knowing Your Options for Polymer Resins in Manufacturing
Another concern is if plastics can meet the requirements of your part and product at large. Thankfully, there's a staggering array of polymers available for use in injection molding to meet different needs. We work with Thermoplastics, which can be reheated and reused in injection molding. There are thermoplastics for impact resistance, thermoplastics for heat resistance, and thermoplastics that have these properties and are also transparent. It's important to have a discussion with your vendor about the right resin to use for your needs and industry. Here are some of the most popular thermoplastics to get you started.
3. Working Early with Your Tool and Injection Molding Vendors
As you can tell from the above two tips, a lot of the problems and pricy mistakes can be avoided by working early with your mold maker and plastic injection part vendor. For companies like ours, which do both the tool making and the injection molding production, you have even more options, including reviewing current molds with an eye to modifying or replacing them. Regardless of who you work with, working with them early and communicating your needs, sending them CAD files, and generally involving them in your engineering makes the end product so much better.
We hope you have a better idea of how to overcome the limitations of plastic injection molding for your project and part. As you can see, it's vital that you have experienced eyes to review your part design, analyze it, and give you honest feedback. At Midstate Mold & Engineering, we have a team of skilled experts with over 180 years of experience in mold making. Contact us to learn how we can help. Want more questions answered first? Check out the most common injection molding questions we get.