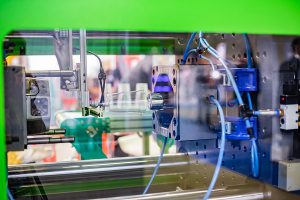 Whether you've always used parts manufactured from other materials or are just exploring your options, you might be surprised by what modern plastics can do. From having the strength and rigidity of metals to the transparency and chemical resistance of glass, modern-day plastics can be used to replace other materials in your parts, with added bonuses such as less weight and complexity and lower cost. Interested in making the switch to plastic injection molded parts? Let's go over everything you need to know.
Looking at the Benefits of Plastic Injection Molding
Below we're going to cover some of the most commonly discussed benefits of both using plastics and the injection molding process. Out of all the materials you can make parts out of, polymers cover the largest array of characteristics, meaning this is only a starting point when talking to a manufacturer.
Lighter Weight: Plastics are often lighter than the materials they are replacing (such as metals or glass) with significantly lower densities.
Lower Cost Per Part: Due to both the cost of plastics and the injection molding process, individual parts can be made much cheaper.
Resistances: With the selection of the right polymers (and the use of the right additives), plastics can have heat, corrosion, and chemical resistance, to name a few.
Part Design: Even when compared to metal dye casts, plastic injection molds and their parts offer more flexibility in part design, including multi-cavity molds and family molds.
Cycle and Throughput: Plastic injection molding can create many more parts per minute. When coupled with a push-pull system, this allows you to scale up production quickly.
The Process of Switching to Plastic Injection Molding
Okay, interested in making the switch over from your current materials and process to using a plastic injection molding manufacturer? First, we recommend reaching out to a mold maker to get an idea of the time and costs involved: here's what you should have ready. Then, the process follows these three major steps before parts can be produced.
1. Reviewing and Redesigning Your Part
Getting your part made in a new material is also a good opportunity for a redesign. This might be minor to account for the differences between materials, or it could be major. We recommend rapid part prototyping with your manufacturer. Once you've redesigned your part, it's time to move on to…
2. Creating a Plastic Injection Mold
Once you have your part's CAD files in hand, it's time to design a mold. This is the most expensive part of the project—the trade-off for the less expensive cost-per-part. You may make further alterations to the part for the mold or may build the mold around it.
3. Choosing Your Resin
The third thing to keep in mind when making the switch is the plastic you're going to use for the part. Picking the right resin depends on your needs, including physical strength, resistance, flexibility, and a host of other options. Learn more about the most popular thermoplastics in use.
Want some more food for thought? Check out our blogs 6 Benefits of Metal Replacement with Plastic Parts and Plastic Perks: Metal-To-Plastic Conversion for Parts. And when you're ready to get started, contact Midstate Mold. With over 50 years in the injection molding business, including in-house mold design and manufacturing, we can provide you with all the tools to help decide if metal-to-plastic conversion is right for your part.