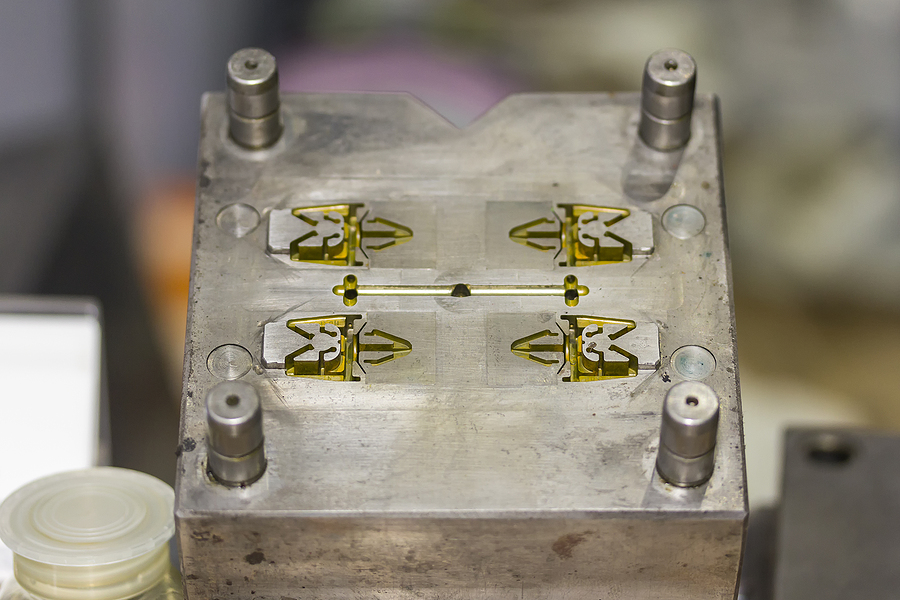 The process of injection molding involves plastic being inserted into a hollow mold cavity. The finalized product takes on the shape of the desired part. However, what if your project requires multiple plastic parts? Designing and building several molds is expensive and time-consuming, which is where multi-cavity molds and family molds come into play. In this blog, we will discuss the difference between the two and how to determine the best option for your needs.
The Benefits of Multi-Cavity Injection Molds
Multi-cavity molds contain more than one cavity of the same part. It's capable of producing numerous parts per injection molding cycle and is great for high-volume production. Some other notable benefits include:
Shorter Lead Time: Quotas can be met sooner since multiple parts can be completed per cycle.
Lower Mold Cost: The cost of a mold with four cavities is less expensive and has a lower cost of ownership than creating four separate molds.
Lower Part Price: The overall labor and machine times are shorter for multi-cavity molds, decreasing the price per part.
Order Scalability: It's difficult to fill a request for a million parts with singe-cavity molds. Multi-cavity molds allow you to place large orders that can be fulfilled in a timely fashion.
Multi-cavity molds are ideal for companies requiring a high number of parts created in a short time.
The Benefits of Family Injection Molds
Although a family mold also contains several cavities, the parts generated share a similar size but different design. For instance, if your part requires two different parts of near-equal size, you can use this tool to produce them both simultaneously. It shares the same pros of multi-cavity molds, with a few additional benefits:
Easier Ordering: Placing an order for a product containing multiple parts can be complicated. However, a mold containing the appropriate number of parts to complete a product simplifies the process.
Low-Volume Order Potential: Family injection molds are cost-effective for low-volume orders, as you don't need to run different molds through multiple cycles to complete a product.
Ideal for Prototyping: Since a product can be fully assembled using only one family mold prototype, it can cut down on pre-production costs.
As this is a complex tool, it's wise to work early with vendors to ensure the mold operates efficiently and with precision.
The Drawbacks and Prerequisites of Multi-Cavity and Family Molds
The processes of these two molds are very alike, making their pros and cons align in a lot of areas. For example, though they will save you money in the long run, they require a high initial investment as their complexity requires longer development time for the mold manufacturer. They also both require your parts to meet similar criteria, some of which include:
Plastics Must Be of Same Material and Color: You can't use different plastics or colors during the injection molding process in a single multi-cavity or family mold.
Parts Must be of Similar Size and Volume: Since all the cavities are filled at the same time, having parts of varying size or shape can cause underfilling or flash molding defects.
Runner Type: The number of parts in a mold can dictate the type of runner you use. If a mold contains a large number of parts, a hot runner would be required.
However, a family mold has a few more drawbacks over a multi-cavity mold. Due to the complexity of the tool, it has a higher rate of defect due to the imbalance of varying parts, and since family molds have multiple different parts in the same tool, it requires extra careful handling.
Multi-cavity molds and family molds share many similarities, and the decision of which to use ultimately comes down to the complexity of your part. At Midstate Mold & Engineering, we have a long reputation for building reliable molds and running production in-house. Our experience grants us the precision to develop prototypes and make multi-cavity and family molds. If you're interested in receiving a quote or inquires about our services, contact us today.