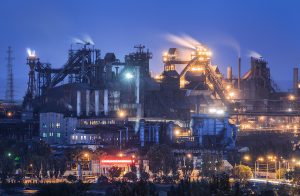 With the new year, it's important to look back on the shortages of last year, their sources, and what they mean for 2023. While these last few years we've felt numerous shortages due to the pandemic and labor shortages, in 2022 we saw a new one with the outbreak of war between Russia and Ukraine causing a shakeup of hydrocarbon restrictions—specifically natural gas and other derived chemicals—through both sanctions and the ripple effects of the conflict.
Looking Back on Key Manufacturing Events of 2022
While 2022 had some of the same logistic disruptions we've seen in the new normal of the post-COVID world, we also saw one major change: the breakout of a major war in Eastern Europe as the Russian-Ukrainian conflict escalated in the largest way since 2014 Crimea. Let's talk about the impacts of that situation on the manufacturing industry:
The Russian Invasion of Ukraine: Before talking about measures other states took, the simple fact of a war between two significant states in Eastern Europe has caused massive disruptions as borders get locked down and nations look to security and military spending first.
Western Sanctions: After the invasion, some of the first responses were sanctions. There are currently 10943 western sanctions against Russia, according to Statistica, including against individuals and entities inside and outside Russia.
Commercial Pullout of Russia: Many agencies also pulled out of Russia due to mounting social pressures or concerns about stability during sanctions. Everyone knows about McDonald's, but a1000 other companies have pulled out or curtained services, many in the manufacturing and material industries.
Crude Oil & Natural Gas Dependency: Before the invasion, the European Union alone was dependent on Russia for 38% of its natural gas. This was a hit on manufacturing in not only natural gas derivatives but also power to run their factories. Crude oil surged up to $100 a barrel with Russian oil bans, directly affecting resin stocks.
Adding to this major disruption have been even more labor and pandemic-related issues, including significant lockdowns in China that resulted in complete shutdowns of cities. This, followed by a lifting of restrictions that seems to have caused another pandemic, has made overseas manufacturing more costly.
How Hydrocarbon Restrictions Hurt Plastic Manufacturing
All of these disruptions have had major effects on the production of polymer resin, meaning less product on the market and higher production costs, as well as the energy crisis from natural gas availability and pricing. Crude oil prices have been volatile after bans from Russia, which directly affected resin stocks. All of that led to a mid-year slum in 2022 in the plastic manufacturing sector and worries about a bad winter in 2023—an effect you've probably felt wherever your business is in the polymer pipeline.
Solutions That Your Plastic Injection Molding Manufacturer Can Leverage
If you do work with a plastic injection molding manufacturer, you and they have hopefully taken measures to keep your part production going and mitigate costs where possible. Some of the most common ways include:
Tool Relocation: As we talked about during the pandemic, tool relocation (tool reshoring) to the US can help insulate your business from issues in Europe and Asia, especially with the looming energy crisis.
Use of Thermoplastics: There are many reasons your manufacturer should be using thermoplastics, chief among them is its recyclability —not only from a sustainability standpoint but also how that product is more insulated from polymer scarcity.
QRM and Push-Pull System: Lastly, it's important to work with a plastic injection molder that has systems in place to make sure you're never without parts. The use of the push-pull system to always have parts at hand is a key part of quick response manufacturing.
We live in a world of complex logistics and economic systems, where a war on one side of the world can be felt on the other. From hydrocarbon restrictions to shipping delays (remember the Ever Given?), you need a local manufacturer you can trust to get the job done. It's time to talk to us at Midstate Mold. We're a turnkey manufacturer that handles everything from prototype development to production on-site to avoid any costly delays. If you require the services of a reliable plastic injection molder, contact us today.