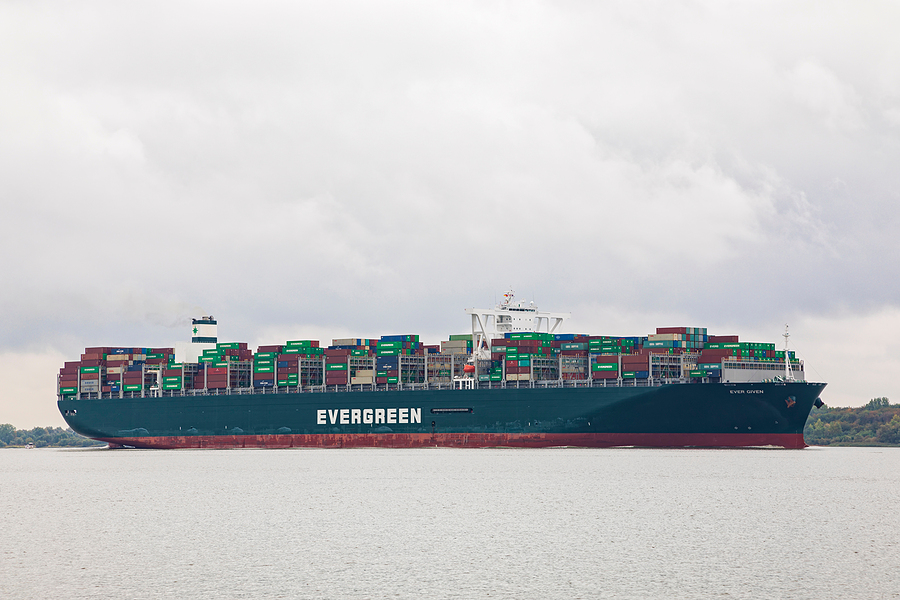 Everyone witnessed the Ever Given causing a six-day traffic jam in the Suez Canal this March. Even with the cargo ship dislodged, it's creating a nightmare of logistical issues for manufacturers. While the holdup didn't affect Midstate Mold, it has further revealed how delicate supply chains are that utilize international transport, such as resin shipments or tool relocation. Given the fragility of logistics underlined by the Ever Given, let's look at how to shorten supply lines in plastic injection molding to avoid undue production and distribution delays.
The Ever Given Underlines a Weak Link in The World Supply Chain
We've witnessed a minor inconvenience – a dust storm, common in the Sinai desert – pose massive repercussions for the world supply chain. The potential for this or similar incidents to happen again and derail international logistics presents a problem with globalization. When the supplies and equipment necessary to keep your company running are an ocean away, a hiccup in the supply chain can quickly render your logistical savings obsolete. Let's take a look at some similar logistics headaches plaguing the industry and how to deal with them:
Working with a Weaker Transportation Labor Force
Concerning truck drivers, the hiring pool has tempered as a result of COVID-19. The Commercial Vehicle Training Association has only been approving a fraction of commercial driver licenses (CDLs) compared to pre-COVID times, and the closures of the DMV have placed further delays on the issuance of CDLs. Fewer drivers mean you can expect delays, but if you work early with your plastic injection manufacturer, you can establish whether a push or pull system would work best for your needs, thereby limiting any unnecessary shipments of parts and freeing up the supply chain.
Longer and More Expensive Supply Chains
The combination of the COVID-19 pandemic and the Suez Canal blockage has increased the price and congestion of international transportation, and with a lot of companies engaging in globalization methods, the delays and costs are quickly becoming unmanageable. To avoid delays, work with local vendors who will not be impacted as harshly by supply line disruptions. The cost-cutting measures of offshore tooling are now revealing their hidden costs with delays in manufacturing and shipping.
Ongoing Travel Restrictions Pile on Shipping Delays
With international traveling restrictions still in effect, overseas manufacturers are struggling to keep up with supply and demand, some even declaring force majeure. With the transportation force requiring strict quarantine methods when traveling internationally, it has delayed shipments, leading to logistical bottlenecking, such as backlogs and a lack of empty shipping containers. Avoiding bottlenecking like this requires shortening your supply line, which means sourcing your parts from local injection molding manufacturers. The shorter your products need to travel, the less interference they encounter.
Tips to Proactively Dealing with Logistical Nightmares
It can be frustrating to navigate the current disruptions in global trade, but you must explore your options to maintain your company's supply and demand. Start working with your plastic injection molders as soon as possible. If you've outlined a project, don't delay pulling the trigger any longer than required. Also, buy local. Local manufacturers don't have to deal with the logistical issues faced by offshore tooling. Therefore, you're faced with fewer delays. Furthermore, working with a turnkey manufacturer – a molder that performs all stages in-house – can drastically shorten your supply chain.
With the fragility of logistics underlined by the Ever Given, it's clear that now's the time to start planning your next project. You should also anticipate shipment rate changes as supply chains remain congested and unpredictable. Locally sourcing your plastic parts from a manufacturer like Midstate Mold will help you meet your deadlines. We're a turnkey manufacturer that handles everything from prototype development to production on-site to avoid any costly delays. If you require the services of a reliable plastic injection molder, contact us today.