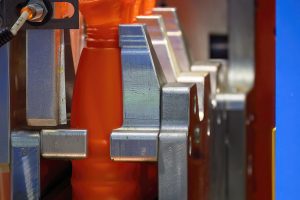 Plastic is a fantastic material because of its versatility. When it comes to manufacturing parts, the sheer number of plastics you can use is only rivaled by the manufacturing processes to make them. Each has its own strengths and weaknesses and its own economical niches to fill, but you should compare all before using one over the other. Today we're looking at the manufacturing differences between injection molding and blow molding and comparing the pros and cons to help you make an informed decision going forward with your next project.
What Is Plastic Injection Molding?
Plastic injection molding produces parts by injecting molten materials—most commonly thermoplastics—into molds, also known as tools. Before being injected, the plastic is heated in the barrel, injected into the mold, moved along channels known as runners, and then inserted into the part itself. Once completed, the mold opens, the part is ejected, and the cycle continues again. Together, this is known as the Thermoplastic Conversion Process which produces plastic parts quickly and in volume.
What Is Blow Molding?
In many ways, blow molding starts the same as injection molding: plastic is heated to a melting point. But the process—such as extrusion, spin, or injection blow molding—differs after that. This plastic is generally formed into a small hollow tube called a "preform" or "parison," and then, while still very hot, is expanded with compressed air to fill a mold or a die. Blow molding doesn't fill the die up completely, instead it only creates a hollow form of the mold—making it similar to glass blowing in that it works best with similar structures, thin hollow tubes like those for bottles.
Injection Molding vs. Blow Molding
As you can see from the above descriptions, the two manufacturing types have some things in common—especially in the case of—but very different processes. So, which is better? Like with all types of plastic parts manufacturing, it's all about what you need for your device and project:
Up-Front Costs and Lead Time: For both, the initial costs are the toolings—the molds used for the plastic parts. Blow molds are much simpler, and therefore have less cost and lead time. Injection molds are expensive and complicated—especially if you want them done right.
Speed and Price Per Part: While having more up-front costs, injection molding excels at creating a large number of parts in a short time. Price per part is generally determined by the material and complexity of the part, with blow molding machines being generally less expensive to run.
Specialized Part Types: If you need something like a plastic soda bottle, it's going to be hard to pass up blow molding. But it also makes blow molding useless outside of its specialties, since plastic injection molding can do more detailed parts or even multi-cavity or family molds.
Material Selection: Injection molding has more flexibility as far as the resin being used, especially when it comes to things like polymer additives. These combined with base polymers allow for a wider range of characteristics for your final parts, from hardness to chemical resistance.
Other Manufacturing Comparisons to Look At
Aside from blow molding, when comparing injection molding against other manufacturing processes, it's important to consider all your options. Here are some more related articles:
When searching for the manufacturing process best suited for you and your plastic parts, we believe the more information you have, the better off you'll be. Reach out and contact us here at Midstate Mold and Engineering to consult about your latest project and learn what we'll need to give you the best advice and quote possible. With more than 180 years of combined experience in injection mold design, tooling, and parts production, we can assist you with every step of the process, from prototype design to making the mold to state-side parts production.