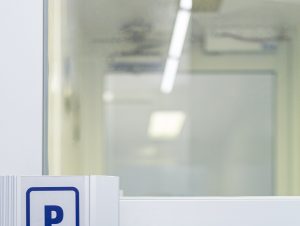 The medical industry has many requirements and specifications when it comes to the manufacturing and assembly of its parts. Having sterile medical devices, especially single-use items like needle housing or pacemaker parts, is vital. Today, instead of focusing on the importance of great quality assurance or the right medical-grade plastic, let's talk about the need for an injection molding cleanroom in your manufacturing process.
What is a Cleanroom?
At its most basic, a cleanroom is a controlled environment designed to filter air-borne particulates and pollutants like dust, microbes, and aerosolized particles, often seeing use in production industries that cater to electronic, pharmaceutical, and medical markets. They are classified into different tiers based on how many particles are allowed in the air. For example, here at Midstate Mold, we have a Class 10,000 Soft Wall Cleanroom (ISO 7), so that would allow less than 10,000 particles (of size 0.5 microns or larger) per cubic foot. Some common features in construction are:
HEPA or ULPA-grade air filters
Worker use of non-particulating cleanroom suits
When Are Cleanrooms Used in Injection Molding?
Cleanrooms can be used in various parts of the injection molding process, but are often used either in assembly (including double-shot molding, overmolding, or insert molding) or during quality assurance/project management. The types of products and tools can include things typically used in the medical/life sciences fields, like beakers and test tubes, surgical tools, implanted components (such as pacemaker parts), needle housing, instrument parts, breathing tubes and mouthpieces, and housing for electronic medical devices.
Other Things to Look for in Medical Injection Molding Manufacturers
Of course, a cleanroom is only one needed aspect for high-quality medical parts. Working in conjunction with a cleanroom, you'll want to find a manufacturer who:
Has Access to Medical-Grade Polymers: Your manufacturer must have a comprehensive understanding of resin properties for medical applications, meeting both regulations and your needs, including the use of anti-microbial additives.
Keeps the Highest QA Standards: While no one wants their parts to have defects, in the medical industry, it's essential to have great QA. Work with a manufacturer who understands the ISO standards for medical devices and has the supporting quality assurance systems and certifications in place.
Meets Traceability Requirements: One vital part of quality assurance for the medical industry is part traceability—being able to trace back (or forward) a specific plastic part. Work with a manufacturer who is compliant with medical parts traceability.
Here at Midstate Mold, we have a Class 10,000 cleanroom and are proud to service the medical industry (alongside other markets) when it comes to mold design, mold making, and part manufacturing. Whether you're just getting into the medical industry or want to take your medical parts to the next level, our ability to help and control at every step in the process means you get the best parts in terms of design, manufacturing, and QA. Want to learn more? Dive directly into getting a quote from us or contact us for more details.